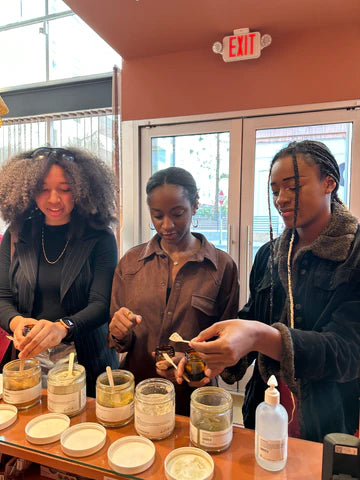 The Things We Do x Gyrl Wonder
At The Things We Do, we believe in the power of collaboration and the impact it can have on shaping the lives of young women.
We've partnered with Gyrl Wonder, an innovative initiative dedicated to creating a career pipeline for young women of color aged 17 to 23.
Gyrl Wonder is on a mission to expose and equip ambitious young women with the knowledge, resources, and opportunities they need to thrive in their chosen fields.

With a strong focus on professional growth, access and opportunity, mental and physical health, and overall wellness, Gyrl Wonder is a driving force for positive change in the lives of its mentees.
Through our collaboration with Gyrl Wonder, we have the privilege of guiding and inspiring these bright minds on all things beauty. We believe that beauty is not just about external appearances, but also about embracing and loving the skin you're in. Our team is dedicated to helping these young women understand the importance of self-care, self-expression, and self-confidence in the world of beauty.
From sharing industry insights and knowledge to providing hands-on guidance, we are committed to empowering these young women as they break into the beauty industry. Our goal is to show them that the possibilities are limitless and that they have the talent and strength to make their mark.
Together with Gyrl Wonder, we strive to create an inclusive and supportive community where these aspirational young women can learn, grow, and flourish. By offering our expertise, mentorship, and resources, we hope to contribute to their personal and professional development, helping them navigate their unique journeys with grace and resilience.
We are honored to be part of Gyrl Wonder's mission and to play a role in shaping the future of these exceptional women. Our partnership embodies our shared commitment to empowering the next generation and promoting diversity, inclusion, and equality within the beauty industry.