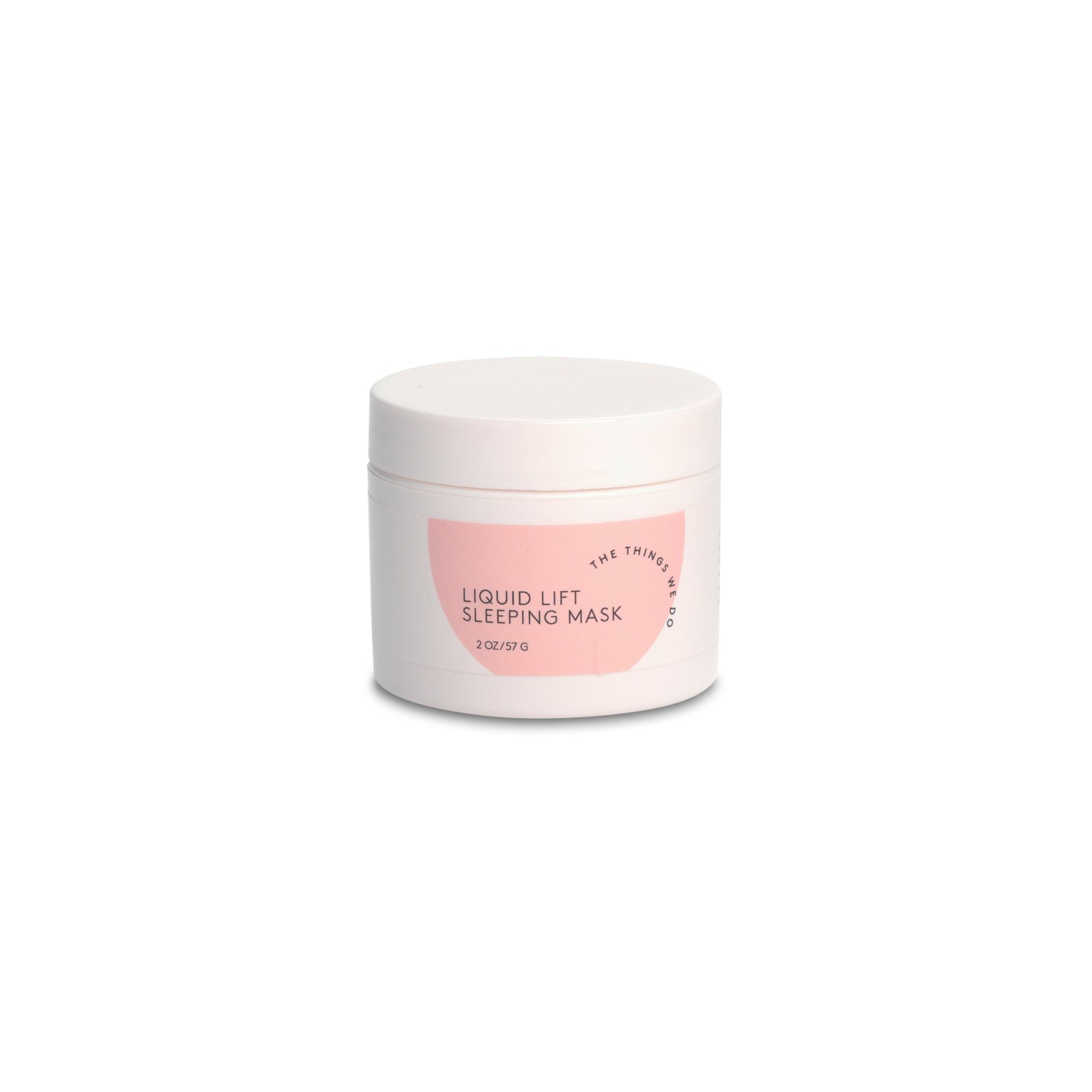 Liquid Lift Sleeping Mask
Hyaluronic acid is naturally present in skin, and as we age we lose it. With age and loss of hyaluronic acid, the skin appears dehydrated. Our plant-based hyaluronic acid will plump and hydrate your skin while the nourishment of B5 promotes healing and regeneration from pollution and aging and the organic oats fight against inflammation to further soothe and restore a calm balance.
Ingredients
(97.5%Natural/72% Organic) Ingredients: Deionized Aqua (Water), Kosher Vegetable Glycerin, Hydroxyethyl Cellulose, Carrageenan Gum, Cassia Angustifolia Seed Polysaccharide (Plant Based Hyaluronic Acid), Panthenol (Vitamin B5), Silk Protein Amino Acid Blend (Sodium L-Pyrrolidone Carboxylate, Sodium Lactate, LArginine, L-Aspartic Acid, L-Pyrrolidone Carboxylic Acid, Glycine, L-Alanine, L-Serine, L-Valine, L-Proline, L-threonine, L-Isoleucine, L-Histidine, L-Phenylalanine), Organic Simmondsia Chinensis (Jojoba Oil), Organic Avena Sativa (Oat), Frankincense Essential Oil (active, not for smell), Organic Rosa Canina (Rosehip Seed Oil), Opacifer, Tocopheryl Acetate (Vitamin E), Sodium Benzoate, Potassium Sorbate, EthylhexylGlycerin, Organic Aloe Barbadensis Leaf (Aloe Vera Extract), Organic Centella Asiatica (Gotu Kola Extract), Organic Equisetum Arvense (Horsetail Plant Extract), Organic Pelargonium Graveolens (Geranium Extract), Organic Taraxacum Officinale (Dandelion Extract).
As an overnight mask, apply an even layer to your face and neck and gently rinse off in the morning. As part of a regular masking routine, leave the mask on for up to 30 minutes and then rinse with warm water before starting your skincare ritual. This mask is gentle enough for regular use.